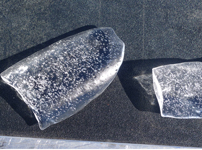 Our research is enhanced by studies previously conducted in Allan Hills blue ice area (BIA).
Fundamental uncertainties remain in our understanding of natural and human-imposed climate changes, and in the factors controlling climate dynamics over the past several million years.
The Allan Hills are believed to contain ice as old as 2.8 million years (Harvey, 1998; Scherer, 1997) at the ice surface. 2MBIA is a collaborative research project, funded by the National Science Foundation Office of Polar Programs, focused on exploring the climate archive in the Allan Hills BIA.